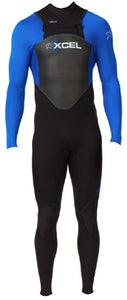 The Xcel 3/2 Infiniti X-zip is a chest zip suit with the zipper on the front. The chest and back have 3mm neoprene and 2mm everywhere else.

The xflex x-zip is a high performance wetsuit that has glued & blindstitched seams which make it so less water enters the suit.

The neoprene is extremely flexible and keeps your shoulders and arms from getting tired on those long paddle outs into big waves.

The chest zip feature is superior to the back zip as there is less water getting into the suit and there is increased shoulder flexibility.
All in all a great suit at a great price.
Sizes:
Colours:
Remember, you are usually one size smaller than you think you need to get a good fitting warm wetsuit
CALL US FOR MORE DETAILS & SIZING