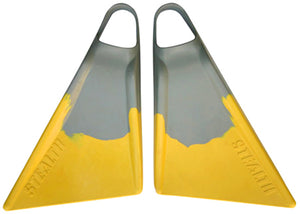 The Stealth bodyboard fins or swim fins are now widely regarded as one of the best fins going. There is basically no difference between these and the other colour ways. Just choose the colour that matches your board or wetsuit! Powerful and comfortable the Stealth 2 fins have picked up from where the Churchill fins left off. Stealth fins tend to have a bit of a wider fit so suit the use of fins with socks rather than without (unless you have a wider foot)
They work well in the water, lots of thrust and power and do not tax the ankles too much.
It is important that you get good sound advice before purchasing as there are often gaps in the sizing of stealth fins, for example some riders with size 9 1/2 to 10 feet (44) struggle to get a comfortable fit. We can help you with that here at BODYBOARD HQ as we have sold thousands of fins, mail order too with very few returns.
All in all a great fin and the choice of most of our team riders. We let them choose and the Stealth 2 comes up trumps
SIZES M, ML & L
FREE NMD FIN STRINGS OR VELCRO SAVERS.
PLEASE CALL US FIRST TO INSURE YOU GET THE CORRECT FIT