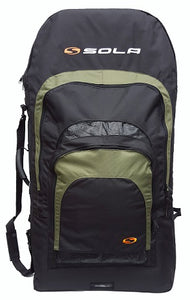 If you are looking for an a great padded bodyboard bag at a great price the Sola travel bodyboard bag is the bag for you. This is simply one of the best bodyboard bags on the market. Loaded with features this bag will carry 3 full sized bodyboards whilst being protected by 5mm of padding.
FEATURES:
Padded Backpack straps that can fold away into a zipped pocket when not in use.
Padded shoulder strap and reinforced handle for ease of carraige.
Large double front pockets for stowage of wetsuit and fins
All in all an excelent bag that cannot be beaten for the price