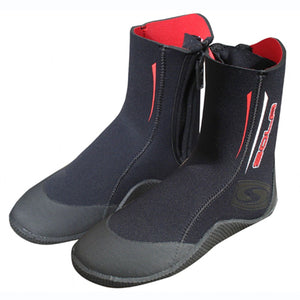 Fed up with struggling for ages to squeeze your children into standard wetsuit boots? This great product from Sola is just the thing.
These boots are hard wearing, have great grip and strong zips, in fact, your kids will out grow these before they will wear out.
This boot also features external tapped semas for added durability
The best kids boot we have found for ease of use.
SIZES:
12, 13, 1, 2, 3, 4, 5
* Please note that you are usually a size smaller than your foot size in these boots. A size 5 foot would wear the size 4 boot*