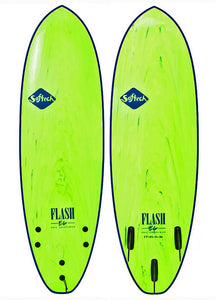 This excellent template shape offers a balance between paddle power, speed and response. Now with FCS 2 fins
SPECS:
Size: 5'7" x 20 1/2" x 2 2/3"
Shape: Shortboard
Core: 100% Waterproof X-Density EPS Foam Core
Stringer: Single stringer
Fin Setup: Tri (x 3 FCS Fin Setup)
Fin System: FCS 2
Volume: 36L
Leash Plug installed
FCS 2 Fins included

COLOURS: Green marble

This template has a fuller nose and lots of volume under the chest for easy paddling. The Flash has a tapered tail outline for harder turns in hollow sections of the wave.

The Flash features both a harder plastic deck skin as awell as the HDPE base so will take a bashing on the beach

Screw in your favourite FCS fins for additional drive and response.

PLEASE NOTE - WE DO NOT SHIP SURFBOARDS - COLLECTION ONLY