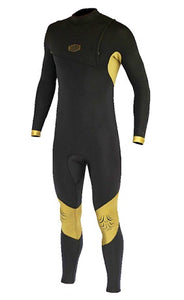 The Hardy X2 is the flagship wetsuit of the Reeflex range.
Top bodyboarder, Ryan Hardy designed this killer wetsuit with high performance bodyboarding in mind and you probably will not find any better on the market for both comfort, performance & flexibility.
The suit is constructed using top quality limestone based, Ultra Stretch Neoprene. The most superior neoprene available.
SPECS:
Minimal panel design for maximum flexibility and durability.
Seamless lower back
Internal stretch tape Seal to keep the suit watertight
Internal Heat Lined Fur
Glued and Blind stitched (GBS)
Zipperless entry for ultimate flexibility & comfort
Glideskin neck for minimal flushing
Internal wrist cuffs for less flush
Superflex knee panels
X2 knee grips (No kneepads)
Key string
COLOURS:
Black / Gold
SIZES: S, M, MT & L 
COMING SOON - CALL FOR DETAILS