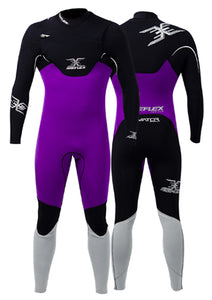 GBS // GLUED & BLIND STITCHED - Glue is applied to the edges of the neoprene, these edges are butted together to create a water tight seal. The stitching is made from a single thread which only passes through the neoprene and its surface making a Blind Stitch.
CTSS // CRITICALLY TAPED SEAM SEAL - Critically Taped Seam Seal to critical areas of the suit; knees, crotch and entry points.
LLL // LAVISH LUNAR LAYER - Lavish Lunar Layer is a distinctive plush hollow fibre blended fabric to keep your torso sizzling.
DDKP // DIAMOND DIVISION KNEE PADS - Diamond Division Knee Pads are layered horizontally for extreme comfort and flexibility.
KEY // KEY CORD - Stash your keys safely on your suit.
CFIT // CONTOUR FIT - Contour Fit to your lower body, you're not straight so neither is this wetsuit.
CZIP // CHEST ZIP ENTRY SYSTEM - Comfort and freedom is what we are all about.
SFX // SOLAR EFFECTS - Solar FX Flex neoprene made for our unique Solar Series range of wetsuits exclusive to Reeflex. Variable Effects (FX) Flex for Mercury, Jupiter & Neptune.
USS // ULTRA SPAN SILK - Ultra Span Silk soft and smooth external lining.
XTD // X TEND - X Tend elastic like and warm internal lining.
SIZES:
XS - Equivelent to a small O'Neill, Rip Curl or Xcel
S -  Equivelent to a Medium O'Neill, Rip Curl or Xcel
FREE SHIPPING TO MAINLAND EUROPE
SEE SIZE CHART FOR FIT