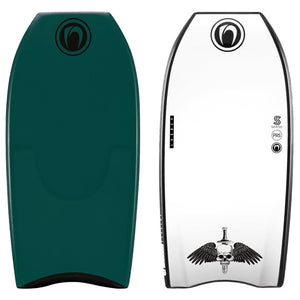 Matt Lackey is widely regarded as one of the best Drop Knee bodyboarders in the world.He rips, fact.
This board is typical of Lackey's style. A bullet style template, perfect for whack ing had on the rail turns and snaps. It is a rocket down the line too.
If Drop knee is your thing then the Nomad Lacky may well be just the thing for you.
FEATURES:
1.9 lb PP core
Tail deck contours for more control
2 X Stringers
SIZES: 42 Only
COLOURS: Mallard Green Deck / White slick
FREE BICEP LEASH WITH THIS BOARD