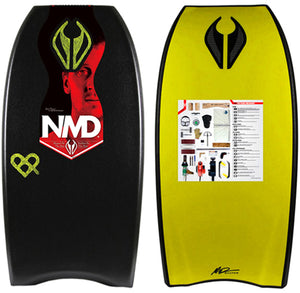 One of Bodyboard HQ's favourite bodyboarders is Ben Player and here we have his classic all round template shape. Ben has been in the game for so long it's crazy. Surfed all the top waves both big and small. He is still a major contender in the top 10 of the world tour and shows no sign of slowing down.
After 15 years at the top he is still the cutting edge of style and a great bloke too.
If you want one of the best boards on the market then definitely consider the NMD Ben Player board on your list.
COLOURS:
39.5 Orange Deck/ White Slick
41.5 Yellow deck/ Orange Bottom
SIZES: 39.5 & 41.5 only
SPECS
CORE: 2.4lbs Extruded PE Core
DECK: Wavecushion Air 8lb PE Deck
SLICK: Surlyn Slick by DuPont
TAIL: Crescent
RAILS: 55/45
EXTRA FEATURES: Graduated Channels, double x2 react Stringer System, React Mesh System, 55/45 Double rails, Nose & Tail Bumpers, Bull Grips
FREE NMD BICEP LEASH