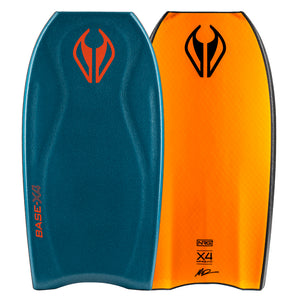 Following the massive success of the NMD Base Pro NRG model we are proud to introduce to you the all new NMD Base X NRG Plus mini quad concave, the interchangeable stringer system. This is a seriously quick board designed for all kind of surf.
The Mini quad design is produced to give max speed but not hamper the boards ability to spin and slid when needed. This mix gives a lot more versatility and is the future of the quad concave designs.

This killer template is one of the best you can buy for all round surf up to 10 feet. The lightweight core combined with Mesh, stringer and an extra layer of slightly higher density foam under the deck give excellent flex and recoil, perfect for snapping off those tight spins in the pocket or boosting off an oncoming section.

The deck contours have been well though out to give a bit more flex where you need it. This is a seriously quick board with all the performance you need for the UK or European travel. 

We love it, hope you do too.
FEATURES:
1.4lb NRG Plus Core
single react Stringer
Mini Quad concave bottom
8lb Deck
Graduated channels
React Mesh under slick
Nose & Tail bumpers
Nose bulbs
Deck Contours

SIZES:
41.5, 42 & 43 Inch only

COLOURS:
DeepSea Green deck / Black rails / Orange slick

FREE DELUXE BICEP LEASH WITH THIS BOARD