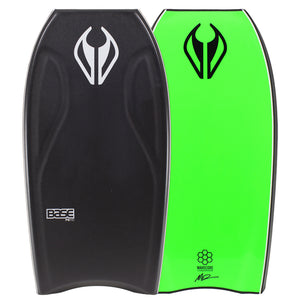 This years NMD Base HD is the best bodyboard available under £130 and the same features as many £140 boards, the perfect intermediate bodyboard for someone who is looking for something a little more branded and has the features to the top end boards on the market.
Much more spec than its baby brother, the NMD Element stacks more than the Njoy.
SPECS:
CORE: 2.4 pcf extruded PE
DECK: 8lb Closed cell PE
STRINGERS x 2 (boards 41 and below have a single stringer)
SLICK: HDPE
TAIL: Crescent
RAILS: 55/45
EXTRA FEATURES:
Base Pro deck contours, Nose & tail bumpers, graduated channels, nose bulbs, single carbon fiber stringer.
Included are some great features that make it stand out from other boards at its price. The template is an all round classic and is very similar to that of the pro bodyboards like the NMD Winchester but lacks the Surlyn bottom. The board performs excellent in all surf with good speed and control. If you are looking to spend under £140 on a bodyboard and want one of the top names in the business the NMD HD is the board for you. Definitely a tough board to beat for the price.
COLOURS:
Black Deck / White Inner Rail / Black outer Rail / Green Bottom
SIZES: 38, 39, 40, 41, 41.5, 42, 43 & 44
Click here for size guide
THE BEST BOARD YOU CAN BUY SUB £130