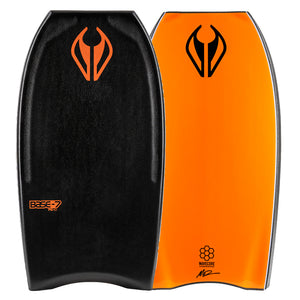 This year have introduced a wider, more buoyant version of the top selling Base HD board. The idea behind the Base 7 HD is to offer a great priced board that is perfect for heavier riders and smaller surf. The construction is the same as the standard Base HD but with added width throughout the board and tail to help get into waves earlier and to give more momentum through flatter sections of the wave.
SPECS:
CORE: 2.4 pcf extruded PE
DECK: 8lb Closed cell PE
SLICK: HDPE
TAIL: Crescent
RAILS: 55/45
EXTRA FEATURES:
Base Pro deck contours, Nose & tail bumpers, graduated channels, nose bulbs, double stringers.
The board performs excellent in all surf with good speed and control. If you are looking to spend under £140 on a bodyboard and want one of the top names in the business the NMD HD is the board for you. Definitely a tough board to beat for the price.
COLOURS:
Black Deck / White Inner Rail / Black outer Rail / Orange Bottom
SIZES: 42 & 43 Inch only
Click here for size guide
THE BEST BOARD YOU CAN BUY SUB £140