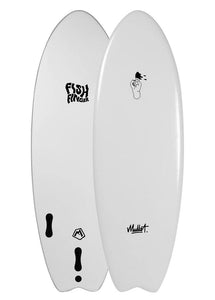 The Fish Finger is a versatile performance softboard perfect for ripping up the summer waves. Using a traditional fish shape it has a bit of extra volume up front to help paddling and help maintain speed through weak sections or sloppy conditions.
Being only 5'2 it allows tight turns and "top to bottom" style surfing in small waves.

It has a "Bones and Shanks" thruster fin setup, but can also be ridden as a twinny if your after something a bit looser. Ideal for riders up to 80kg.
SPECS:
Core: Moulded Fusion X (EPS)
Deck: 10lb IXL
Slick: Xtra Duralinx
Tail: Fish Tail
Stringer: Double Bamboo Stringer
COLOURS:
All White
Navy Blue deck / Flo Red slick
SIZES: 5'2 X 19 1/2" X 2 1/2"
32 Litres
WAS £239.95 NOW - £199.95
PLEASE NOTE - WE DO NOT SHIP SURFBOARDS - COLLECTION ONLY