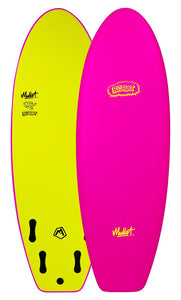 Ever fancied taking a ride on a biscuit! Well the Mullet Biscuit bones & shanks softboard is one cool little glide.

The Mullet Biscuit is the newest and sickest board yet. Unlike most soft surfboards that are thick and lame to ride, the Biscuit is one of the best soft surfboard you will ever ride.
It is a high performance board for the better surfers and great for cutties and punts, the Biscuit is an all round fun monster.
The triple stringer system means this puppie will not bend and flex like your regular sloppy jo softy.
The Biscuit can be surfed as a quad, twinnie or with no fins at all.

SPECS:
CORE: Fusion X with FRM
DECK: 10lb PE
Slick: Xtra Duralinx
TAIL: Square tail
BONES & SHANKS Fin system
FEATURES: Reinforced stringer system, Lightweight reinforce fibreglass membrane FRM
*QUAD FCS COMPATIBLE FIN SET UP*

COLOURS:
Pink Deck / Flo Yellow Slick
Purple Deck / Flo Yellow Slick

SIZES: 5'4"
WAS £289.95 NOW - £229.95
PLEASE NOTE - WE DO NOT SHIP SURFBOARDS - COLLECTION ONLY