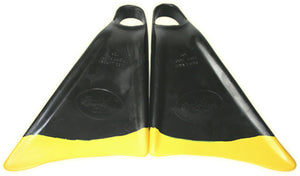 If you are looking for a great pair iof bodyboarding fins then the Limited Edition Team Spec fins are a good choice. These are possibly the closest fins to the churchill Makapuu currently available.
- FORMULATED MALAYSIAN NATURAL RUBBER FOR FLOATATION AND COMFORT.
- SINGLE CENTRE STRUT FOR BLADE STRENGTH, FLEXIBILITY, AND THRUST.
- BEVELED HEEL STRAP TO ASSIST ELIMINATION OF CHAFING.
- DRAINAGE HOLE FOR RAPID RELEASE OF SAND AND WATER.
- STIFF BLADE DESIGNED FOR MAXIMUM PERFORMANCE AND THRUST.
COLOURS: Black/ Yellow tip
SIZES: Small only
PLEASE CALL US FIRST TO INSURE YOU GET THE CORRECT FIT