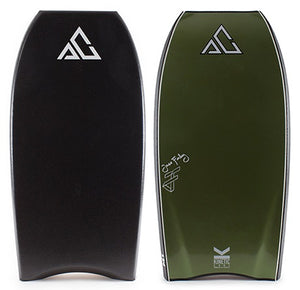 The Jarrod Gibson JG Jase Finlay M1 Bodyboard
Jase Finlay is super skilled on any wave riding vehicle. Bodyboard, skimboard, softboard or surfboard, jase can
tear it up on the lot.
The Jarrod Gibson, Jase Finlay signature template is one of the best on the market. This years models are slightly narrower in order to gain a bit more speed. His signature curve has also undergone some small alterations to compliment his balls out riding style.
FEATURES:
NRG+ Core
Nose Bulbs
Mesh
Dupont Surlyn
Nose & Tail Bumpers
Graduated Channels
CFS Stringer System
COLOURS: Black Deck / Army Green Slick
SIZES: 40.5 Only
FREE TOP OF THE RANGE BICEP LEASH WITH THIS BOARD