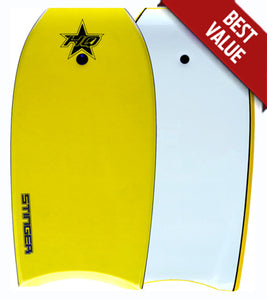 We had a good look around at what was available on the bodyboard market and it was obvious that you could not really get anything decent less than £50. Sure there were lots of different products out there but not many that offered a range of sizes with a good functional template (usually reserved for more expensive boards)
Well we did our research, decided to cut out the middle man and commit to high volume in order to get the price down.
This years version includes an improved slick bottom and double rails for more strength. What we have ended up with is simply the best bodyboard you can buy under £50. Great shape and lots of performance and a range of sizes.
We have even been riding them ourselves! 
Perfect for beginners and people wishing to improve.
FEATURES:
Strong EPS core
50/50 Rails
Graduated channel slick
Double rails
Hard slick
Nose grips
SIZES: 36, 40 & 42 Inch
Click here for size guide
COLOURS:
Yellow deck / White slick / Black graphics
INCLUDES LEASH
BUY UP TO 4 BOARDS & ONLY PAY ONE LOT OF SHIPPING