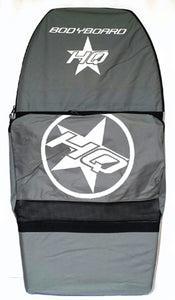 If you are looking for a great bag that carries 2 bodyboards the HQ Double is just the thing.
The bag features strong padded backpack rucksack style straps for ease of transport. A carry handle, large front pocket for fins and wetsuit.
There is also an internal wax pocket and good strong zips. At the bottom of both the main bag and front pocket are large mesh drainage areas to let out the water and sand
This bag will carry 2 BOARDS of up to 43" length or 1 x 44" plus a 42 or smaller.
Our top selling bag.