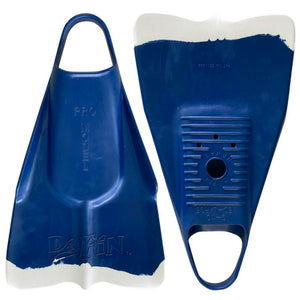 DaFins body surf fins Grey & Orange. Developed in Hawaii with input from world renowned pros such as Mark Cunningham and Brian Keaulana, DaFiN was granted a U.S. Patent for its original design. DaFiN combines unparalleled comfort with exacting construction to create a swim fin that performs under the most extreme conditions.

The side rails --- the "strakes"--- on DaFiN are rock solid but run only about half way down the length of the fin where they angle back to the blade. This forces the fin to flex right at this critical point. The raised v-shaped foot pocket combined with a stiff blade working together at the point of flex creates maximum acceleration of the water flowing over the fin surface resulting in more thrust per kick with less effort.
 For such a powerful fin, it is unusually light in weight. DaFiN floats in the ocean and there is no right or left foot difference so DaFiN can be worn on either foot.
DaFiN is the #1 choice of lifeguards, bodysurfers, and top watermen around the world and is standard issue equipment for more than 60 municipal lifeguard and surf rescue agencies in the USA.
APPROX SIZES: To fit with a 3mm sock, assuming you do not have a wide foot or high instep
2XL (Size UK 12 to 14 approx)

COLOURS: Navy Blue / white tips
FREE FIN SAVERS 
PLEASE CALL US FIRST TO INSURE YOU GET THE CORRECT FIT