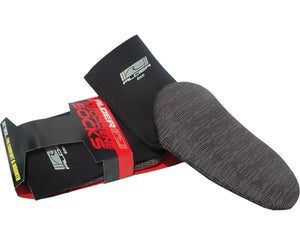 If you are looking for a really warm sock for bodyboarding or any other watersport then the Alder 4mm Burn sock is tough to beat.
Constructed from 3mm neoprene with glued and blindstitched seams the impact sock also features a hard wearing sole for those short jaunts across the sand. The added feature of the polyfbre firewall fleece ling make these the warmest socks on the market
One of the best wetsuit socks you can buy.
SIZES: 
2XL Kids (3/4)
3XL Kids (4/5)
Adults (6/7)
M Adults (8/9)
L Adults (9/10)
XL Adults (11/12)
2XL Adults (12/14)
COLOUR:
All black