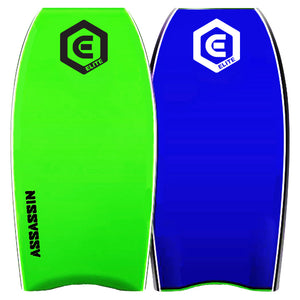 The all new Elite Assassin bodyboard is one of the very best bodyboards in its class. Not only is it one of the strongest under £100 but it is also one of the most bouyant board you can buy for its size. The new Assassin has been redesigned by Bodyboard HQ to create the best bodyboard under £100. The board features a polypro/eps blended core that also has an extra layer of higher density foam to add strength making it a lot stronger than many other bodyboards using one stringer. The board has incredible amounts of spring and recoil which is the magic ingredient that really makes a board move. The board is also a lot stronger than the many sub £120 pe core bodyboards too so will last far longer.
Performance is great, So good that even the 5 times British champion, Danny Catten regularly uses one
PLEASE NOTE: LIKE MANY DECENT BOARDS THIS BOARD DOES NOT COME WITH A LEASH. CHOOSE EITHER LEFT OR RIGHT FOR PLUG PLACEMENT
FEATURES: 
PE Crosslinked deck
2.4 pcf SPER core
Double rails for extra strength
HDPE bottom skin
Graduated channels
SIZES: 
38, 40, 41, 42 & 43 Inch

COLOURS:
Apple Green Deck / Blue Slick 

THE BEST BODYBOARD YOU CAN BUY SUB £100 IN THE UK.