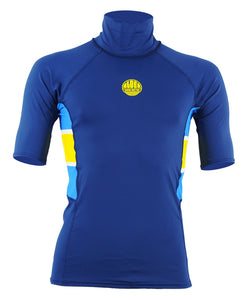 The best rash vests we have found. Help to prevent skin rubs. Superb quality and well thought out. Tough to beat at this price.
SPECS:
Constructed from 6oz Lycra
Flatlocked Stitching
Authorised UV50 rated sun protection
High collar to prevent wetsuit chaffing & rubbing

COLOURS: Navy Blue
SIZES: S, M, L, XL, XXL, XXXL
Click on image to view size chart
Please note: It is very likely you will be one size smaller than you think you need in a rash vest. They need to be snug to work well. Please call us if you want more advice on the fit.